"I would strongly recommend that any disabled person seeking employment apply for an opportunity on this programme as it really helps to build confidence and has such a diverse range of internships. The programme empowers individuals to work in fields which are both interesting and rewarding, allowing disabled employees to thrive and meet their targets."
By Andrew Napier
Introduction
Helping people, human rights, equality (achieving fair treatment of everyone) and ensuring people receive what they are entitled to have always been interests of mine.
I studied law at university for five years and was able to explore and use these interests during my studies and various voluntary placements. Being blind myself, I know how hard it can be to achieve goals in life, particularly when it comes to finding a job, but it's always possible with perseverance and a positive attitude.
Goal-setting
The past three years have been challenging but rewarding. After university, my first goal was to find a legal traineeship.
Whilst searching, an opportunity came up for a graduate traineeship programme with the NHS. I found out this would involve moving away from home to Dumfries but I've always enjoyed being independent, so I decided to take the challenge. From that point, I changed direction and became an Equality and Diversity Advisor, which in some ways related to employment law which I had studied previously. In other ways, it gave me experience through a different context too.
Leaving home for the first time can be hard for anyone but, as you might guess, presents even more challenges for a blind person; particularly where cooking, washing clothes or doing the weekly shop are concerned. Despite this, I gained confidence and independence and loved the experience.
Exploring my options
Following my role with the NHS, I moved back home to look for jobs in Glasgow and the surrounding areas. I was keen on Human Resources (HR) but was prepared to give anything a try.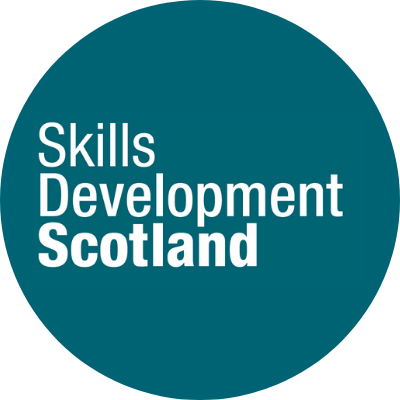 After applying for several jobs and being unsuccessful, I found the opportunity to apply for a year-long HR Graduate Internship with Skills Development Scotland (SDS) through Inclusion Scotland's We Can Work programme in May 2019. I was particularly attracted because the internship was in the field I was looking for and because the programme is designed for disabled people. You can find more information on SDS's Website.
Inclusion Scotland and SDS have been extremely accommodating right from the start. A mock interview in early July with Inclusion Scotland boosted my confidence for the real interview with them and SDS the following week. I was delighted to be offered the job and immediately accepted. Over the next two months, I met with both organisations several times to discuss reasonable adjustments required for me to perform my role. I am very grateful for this as it shows both organisations really care for their employees' needs. SDS also assisted me to apply for equipment and travel through a government scheme called Access to Work. Because of all this preparation I truly felt ready to start in October 2019. The support has continued from both organisations within the internship.
My dual roles and tasks
My role is essentially made up of two parts: the main one is creating learning materials on reasonable adjustments to be used by managers and published on the intranet; and the other is around case management.
This involves advising and enabling people managers to resolve cases on a variety of different areas. Case management is an area which really excites me as it involves helping to solve other individuals' problems. I also love the fact that I am now looking at issues from the employer's perspective rather than that of the employee as was the case in previous placements.
Reasonable adjustments in the workplace is another passion of mine and is very relevant both to equality and employment law. This area is somewhat easy to relate to as I have personal experience of reasonable adjustments. I therefore understand the kinds of reasonable adjustments others may need. I am now beginning on a much larger project on supporting people with reasonable adjustments, which I hope shall be of great benefit across SDS.
The role has allowed me to see how cases are dealt with from a different perspective and has given me experience of working in HR. Over time, I am building confidence in advising people managers about their cases and am focusing on reasonable adjustments to a much greater extent than in any of my previous placements.
My Experience so Far as a Whole
Over the past six months or so, I have met many other employees of SDS within the Human Resources Directorate and beyond. I find that everyone I have met so far is friendly, open and willing to help. They are always ready for a good chat and, of course, we have our fair share of social outings! Recently we went to the escape rooms in Glasgow and you might be pleased to hear I managed to get out to write this!
What's Next for Me?
I have really enjoyed my internship to date and would love to continue working for SDS when it finishes.
HR is such an interesting field in which I hope to continue working in future. I cannot thank either SDS or Inclusion Scotland enough for the support they have given me prior to, and during, the internship. The We Can Work programme has allowed me to grasp a great opportunity that I otherwise would not have had.
I would strongly recommend that any disabled person seeking employment apply for an opportunity on this programme as it really helps to build confidence and has such a diverse range of internships. The programme empowers individuals to work in fields which are both interesting and rewarding, allowing disabled employees to thrive and meet their targets.
My final message to all potential applicants is to take as many opportunities as possible in an internship.
Inclusion Scotland is funded by the Scottish Government's Equality Unit to deliver the National Disability Internship Programme "We Can Work". 30 internships will be created for disabled people per year as per the Scottish Government's A Fairer Scotland for Disabled People Delivery Plan.